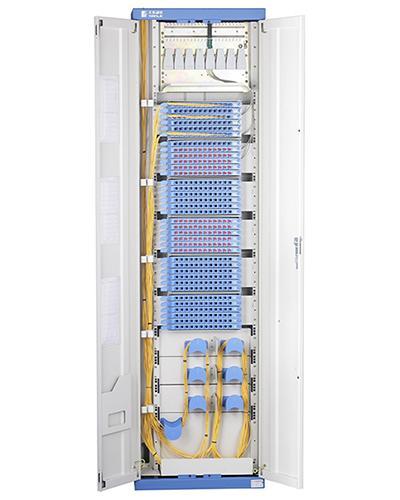 Application
The HC-B medium density odf optical distribution frame is medium density optical fiber distribution equipment widely used in machine rooms. The distribution frame is especially suitable for the distribution of fiber access network access in medium capacity optical fiber and optical branched cable systems.
Material
The frame is constructed from high quality cold rolled steel plate to guarantee sufficient rigidity and strength.
The surface of the frame is electrostatically coated to ensure it has a great appearance and anticorrosive effects. The color can be customized.
Specification
Name
Outline size (mm) (height × width × depth)
Full capacity (core)
HC-B Medium Density ODF Optical Distribution Frame
2600×600×300 (450)
504
2200×600×300 (450)
432
2000×600×300 (450)
360
Features
1. Using high quality steel plate, with surface electrostatic spray treatment, the construction is beautiful and durable.
2. Link module has the function of fusion splicing and wiring.
3. Suitable for both ribbon fiber and non-ribbon fiber.
4. Adapter installed in an inclined angle ensures the bending radius of the optical fiber, and prevents eyes form being damaged by powerful light.
5. Fiber optic connection can be equipped with different adapters, such as FC, SC, LC, ST, etc.
6. Optical fiber patch cord divided into upper and lower area management greatly shortens the distance of the wiring, and makes it more concise and clear.
7. Optical distribution box can be chosen for distribution protection of different kinds of optical cable.
8. Reliable cable fixing, stripping and grounding protection device.
9. When the optical fiber is connected to a device, it can go from the top as well as from the bottom.
Hengchang is a leading optical fiber networking equipment manufacturer since 1994, besides the medium density ODF optical distribution frame, we are offering products like server rack, cable distribution cabinet, cable and wire management system, etc. We have extensive experience in making data communication and network equipment, always provide quality optical distribution frames for global customers.